Calling for a Human-Scale Development at the O2 Site
Land Securities Group plc (Landsec) has submitted its planning application to redevelop the O2 site. It proposes to build 1,800 flats in tower blocks of up to 16 storeys in height. These will be visible from the five conservation areas which surround the site.
The application can be viewed online at: 2022/0528/P
Key documents to review are the Planning Statement, the Design and Access Statement part 1 and the Design and Access Statement part 2 and the Non-technical statement, which provides greater clarity on building heights and open space.
Key issues of concern will be:
density, height, bulk and massing;

the impact from the addition of 4,000-5,000 new residents on infrastructure, including public transport and existing over-used green spaces;

failure to meet Camden's Local Plan policy A2 which establishes a minimum open space green provision of 9 sq. metres per occupant for new residential developments, implying an open space requirement of 36,000 – 45,000 sq .metres.

 

The site area is 5.7 hectares (57,700 sq. metres);

demolition of the O2 shopping and entertainment centre, including the environmental impact of demolition;

the extent of the harm to the five surrounding conservation areas.
Objecting to the current proposal
Objections calling for a more human-scale development have been prepared by both Redington Frognal Association and Redington Frognal Neighbourhood Forum. These objections can be read here:
Update 14th June: the case officer handling the O2 Centre application has said that, although the official closing date of 2 June has now passed, he will continue to accept submissions until the Planning Committee stage.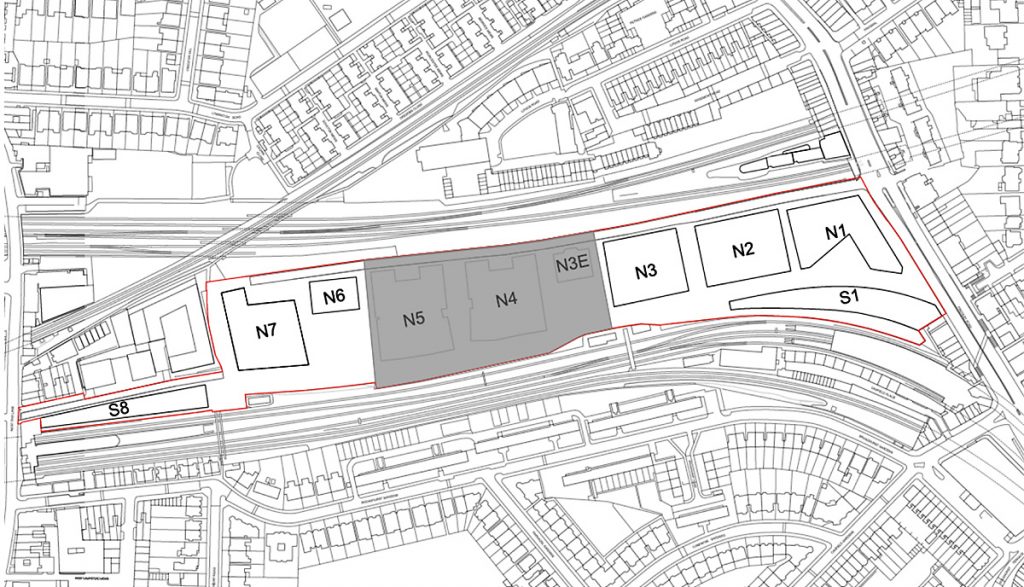 The Site, as outlined in red in the current proposal shown above, is approximately 5.7 ha and currently comprises the O2 Centre; a surface level carpark with space for 520 vehicles (which also contains a car wash); a Homebase store; two purpose-built car showrooms; a Builder's Merchant; and Blackburn Road.
A 3D model of the current proposal for the O2 site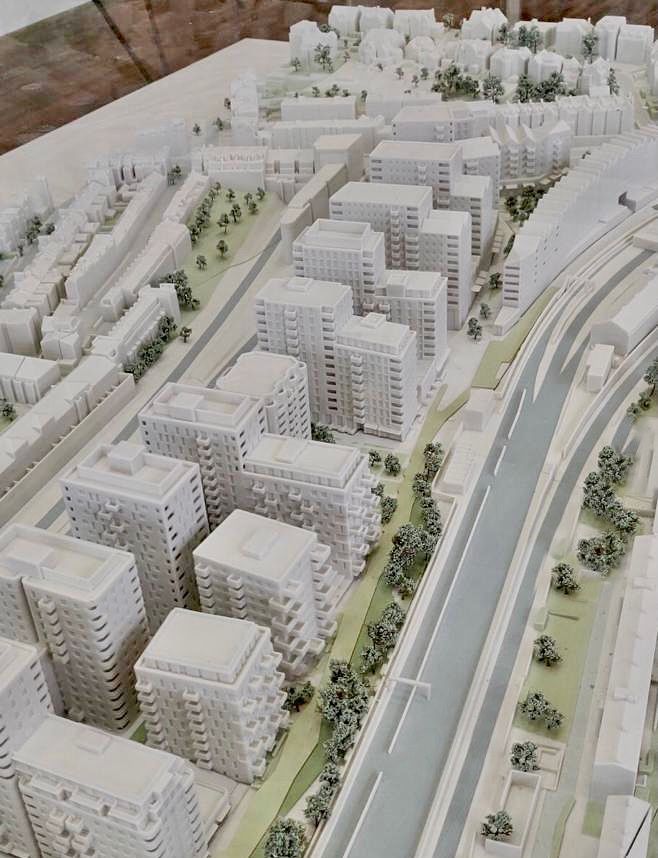 The application envisages a very dense development of 1,800 flats in tower blocks of up to 16 storeys.  This runs counter to findings from the GLA's Planning and Regeneration Committee that tall buildings will not produce the high-quality homes and neighbourhoods that London needs, since
"… in general families are disadvantaged if they are living in tall buildings."
The proposal also contravenes the National Planning Policy Framework in that it will not be "sympathetic to local character and history, including the surrounding built environment and landscape setting" will cause substantial harm to the five surrounding Conservation Areas.
Based on an average occupation rate of 2.5 people per flat, the development may be expected to accommodate 4,500 residents.  They will not have access to adequate open space, as stipulated by Camden's Local Plan policy A2, which sets out a requirement of 9 sq. metres per occupant.  This implies an open space requirement at the O2 site of 40,500 sq. metres, whereas the Landsec proposal is for a:
green space of 3,500 sq. metres and
central square of 1,700 sq. metres.
The planning application is available on Camden's website at:
https://planningrecords.camden.gov.uk/Northgate/PlanningExplorer/GeneralSearch.aspx
and is found by typing in the following reference: 2022/0528/P
A presentation, arranged by West Hampstead Amenity and Transport, sets out the key issues which Camden will take into account when determining the application. The presentation, by Daniel Pope, Camden's Chief Planning Officer, is available here.
Opposition groups including RedFrog are combining to fund an expert review of the application. Material objections, which will carry weight, include the following planning grounds:
Non-conformity with national policies, eg the National Model Design Code and Sections 16 and 66 of the Planning (Listed Buildings and Conservation Areas) Act 1990
Non-conformity with local policies, eg Guidance from the Greater London Authority, Camden Local Plan policy A2 and policies in the Fortune Green and West Hampstead Neighbourhood Plan
Unacceptably high density of 312 dwellings per hectare
Design (including bulk, height and massing, detailing and materials).  The proposal is incongruent with the Arts and Crafts architecture of the surrounding Conservation Areas and garden suburbs
The proposed development is over-bearing, out-of-scale and out of character in terms of appearance, when compared with the domestic scale of architecture in the vicinity
The adverse effect of the proposal on the settings of five surrounding Conservation Areas and on the Victorian and Edwardian character of Finchley Road and surrounding streets
The adverse effect of the proposed tower blocks on views from the five surrounding Conservation Areas
Adverse visual impact of the development, notably from Finchley Road, Frognal, Arkwright Road, Langland Gardens, Lindfield Gardens, Arkwright Road, Nutley Terrace, Netherhall Gardens, Canfield Place, Rosemont Road and Rosemont Mews
The proposal is exceptionally harmful to residents of Rosemont Road and Rosemont Mews, who will lose not only their views but also their daylight, thereby causing a loss of residential amenity.
Please email your objections to:
David.Fowler@camden.gov.uk
The subject should include Planning Reference 2022/0528/P