Marking the Direction and Flow of Underground Rivers
This is a future project.
The presence of underground rivers or other bodies of water is often indicated by soggy ground, poplar and willow trees. RedFrog became interested in daylighting underground rivers following a meeting with water engineer Dr. Stephen Myers, in May 2015. At the end of 2016 Arup was commissioned to map underground rivers for the neighbourhood plan evidence base.
In July 2017, RedFrog was introduced to sculptor Robin Lacey and, with the support of Camden, CIL funds were authorised mark the underground rivers which had been identified by Arup together with citizen science (RedFrog residents).
The Arup map of RedFrog underground rivers indicates the presence of many historic rivers, such as the Westbourne, East Westbourne, Cannon, unnamed rivers, springs, wells and ponds. As many as five water courses can be found within a space of 800 yards. While these have mostly been absorbed into sewers, clean water runs between Branch Hill and Redington Gardens, where the stream can be heard. Mostly, however, the streams have become degraded, devalued, and discarded –  interred in underground culverts, out of sight, out of mind.
Watermark Project Phase 1
Where possible, it is therefore proposed to increase awareness of these underground streams through "daylighting", by restoring hidden water to a more natural state above ground, along with the environmental virtues of biodiversity, enjoyable green spaces, and flood prevention.
Where this is not possible, the streams will be culturally daylighted through marking their direction and flow, using cast bronze glyphs. This could form part of a long-term vision to support local history, geography, green space and legibility.
Arup Map of underground waterways
The report generated is available here: Arup Mapping Report_RevA_Issue 010416_Reduced
A local map with all water features identified to date, produced by Arup, is shown below. This may be updated in the future as new features are found: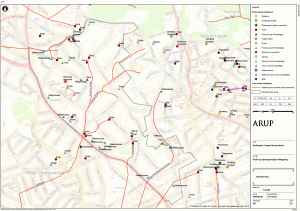 CIL funds are being used to mark the direction and flow of the underground rivers, which have been identified by Arup and Dr. Stephen Myers. Camden will insert sand-cast bronze maquettes (shown below), designed by sculptor Robin Lacey who specialises in bronze for the public realm, as a Watermark Trail. His presentation to the RedFrog Neighbourhood Forum and Association AGMs on 28.10.18 is available here: Robin Lacey Talk Notes draft 3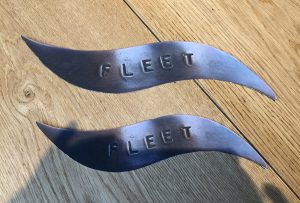 Surface water: The biggest flood risk of all
Details of the speech made by Sir James Bevan KCMG, Chief Executive, Environment Agency 17.10.18 outlining why surface water flooding is such a real and growing risk is available here: Surface water-The biggest flood risk of all-GOV.UK
The Redington Frognal area lies within a Flood Risk Zone and Critical Drainage Area and Camden is designated at "lead local flood authority".
Surface water flooding last occurred here in 2002 – see photo of Lymington Road below, take from page 24 of "Managing flood risk in Camden: The London Borough of Camden flood risk management strategy" at the link below:
https://www.camden.gov.uk/documents/20142/1458280/Camden_Flood_Risk_Management_Strategy.pdf/9e739029-02e5-59c7-e9a4-64d3622f2475?version=1.0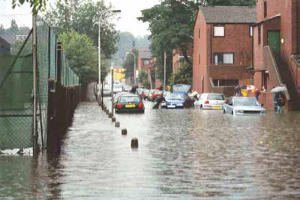 The cause of the 2002 flooding was accepted to have been overwhelmed sewers and drainage systems. Further information is available in the attached Arup report:
https://beta.camden.gov.uk/documents/20142/2247044/GHH+study.pdf/12f5a776-e382-21fe-8dbd-04ea4db575b3
And there is more information here:
https://www.my5.tv/the-great-flood-of-london/season-1/sinking-cities-london