Camden's pollarding policy is jeopardising the health of street trees
The demise of Camden's street trees – A report and proposals
Executive Summary
This report is based on answers to Freedom of Information requests, information from Camden Open Data, an internal presentation made by Camden Tree Officers in 2015, contributions from local groups and committees and the study of recent academic and professional materials.
Camden Trees Department characterises large parts of the borough as having a significant subsidence problem. Their policy of bi-annual pollarding is based on the belief that this will protect the council (a) by having a maintenance programme that is defendable when subsidence claims arise and (b) leading to a reduced risk of them arising in the first place.
The consequences of this policy are degrading the urban environment in these wards and post codes to an unacceptable level. The leaf canopy is disappearing as streets are denuded of full sized trees while virtually all benefits provided by mature trees, be it air quality, shade, habitat and more are fast disappearing. The Council is knowingly destroying mature trees, indeed their website states this is 'unfortunate but unavoidable'. 1
An Addendum to the full report is available here: Addendum to demise report_31.1.19
Through Freedom of Information requests to the councils of Camden, Hackney, Westminster and Islington this new report establishes beyond doubt that the current policy is perverse, destructive, expensive and is not working. The report finds that of the four councils Camden has:
The largest tree maintenance and planting budget.
The second fewest street trees.
The largest number of trees felled per annum
The most trees planted per annum
The most statistical data and records
The laxest replanting & monitoring programme
The weakest benchmarking for tree maintenance standards, and
The same low rate of tree related subsidence as its neighbours who do not routinely pollard their mature trees. 2.
The report concludes that the policy of bi-annual reduction also known as stripping and topping be stopped immediately. Furthermore, it proposes urgent amendments to the current Tree Policy in order to reverse this pointless destruction, promote a green and healthy environment and reassure residents whose confidence in the councils' competence has been severely eroded.
_________________________
1 SOURCE | 2 FOI's
11.10.18 | HF
A full report of The demise of Camden's street trees, and proposals, is available here: The Demise of Camden's Street Trees – full report, 31.10.18
The report was written by Harvey Flinder, a resident of Camden for over 30 years, it is supported by and represents the views of local residents groups, local Conservation Area Committees, Air Quality Action Groups, Councillors, and activists in local politics and environmental issues.
A map of the street tree removals in Frognal & Fitzjohn's, 11.10.18 is shown below: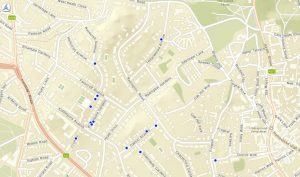 More information can be found on Camden's Open Data portal:
https://opendata.camden.gov.uk/Environment/Trees-In-Camden/csqp-kdss/data
Tree pits
Tree pits in the RedFrog area are of the most basic kind, are unlikely to sustain trees to grow to maturity.  They compare unfavourably with the tree pits used, for example, by the London Borough of Islington, which are designed by GreenBlue Urban, shown here: