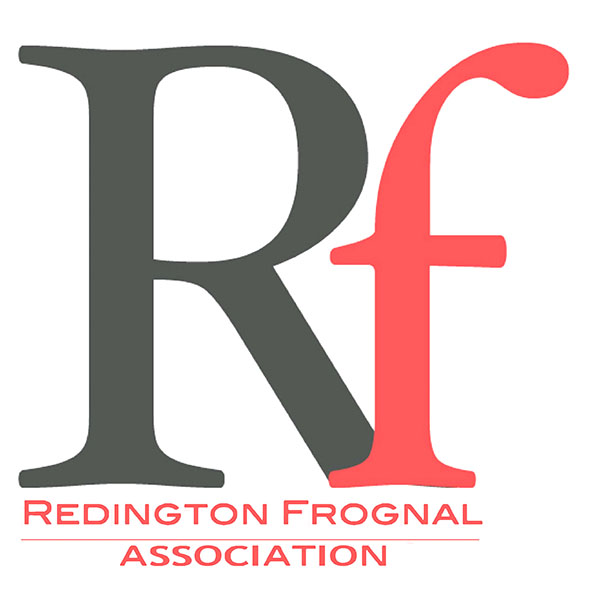 Welcome to the RedFrog Association
The RedFrog Association represents residents of the Redington Frognal Conservation Area (London NW3) and its immediate surroundings.
RedFrog aims to maintain and improve the quality of life for our residents. Our work includes planning, roads and pavements, traffic and the school run, trees and wildlife. We liaise with Camden Council, Transport for London, the Metropolitan Police, local schools and businesses and developers.
–––
AGMs – Sunday 1st October 2023
The Neighbourhood Forum and Association invite residents to attend their AGMs on Sunday 1st October. Please come to hear about local events and raise any concerns. Drinks and refreshments will be served.
Venue by kind permission of:
St. Margaret's School, 18 Kidderpore Gardens, NW3 7SR
The meetings will run consecutively, beginning at 5.00pm
Please RSVP if you can attend to: redfrogemail@gmail.com
–––
Link to the O2 Planning Committee Meeting of 30 March 2023
The O2 Planning application will be considered at the Planning Committee meeting of Thursday 30th March Planning Committee. A link to the agenda is below:
Agenda for Planning Committee on Thursday, 30th March, 2023, 7.00 pm – Camden Council
Due to the large interest generated, the meeting is a ticketed event and only those issued with tickets are allowed access to the Council Chamber and galleries.  The meeting is being webcast and can be watched live on-line via Microsoft Teams.
Requests to view the meeting online should be addressed to:
Mr. Sola Odusina, Principal Committee Officer at: sola.odusina@camden.gov.uk    telephone: 020 7974 6884 
Camden's Failure to Give Due Weight to Objections
An urgent legal letter requesting deferment of consideration of the application has been sent to Planning Committee.  Despite this, the officer's recommendation to grant consent will be considered today (Thursday 30 March 2023) at 7 pm.
Deferral had been sought to give officers time to properly consider the numerous objections and planning breaches which have been raised by  Historic England and in the report of the independent planning consultant commissioned by opposition groups (including RedFrog Association and Neighbourhood Forum).
It is expected that the Planning Committee will grant consent.
Please comment on the current O2 Development Proposal
The planning application is available on Camden's website at:
https://planningrecords.camden.gov.uk/Northgate/PlanningExplorer/GeneralSearch.aspx
and is found by typing in the following reference: 2022/0528/P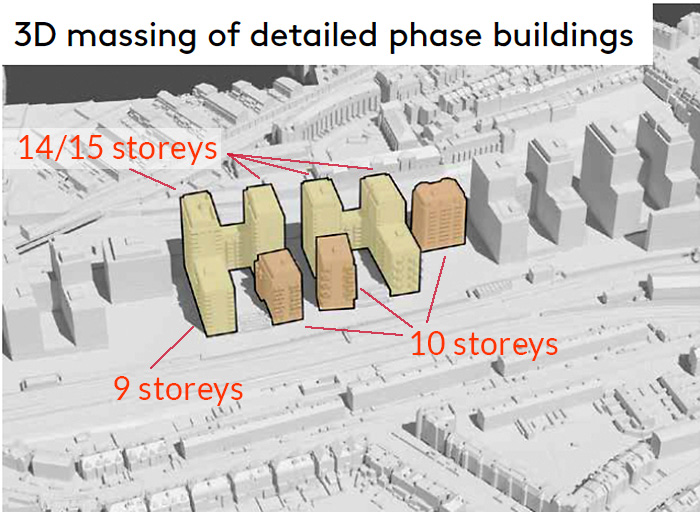 Above: current proposed massing of the central plots by number of storeys
Below: 3-D model of the masterplan proposal from 2022
Land Securities Group plc (Landsec) has submitted its planning application to redevelop the O2 site. It proposes to build 1,800 flats in tower blocks of up to 15 storeys in height (amended from 16). These will be visible from the four conservation areas which surround the site. More on this campaign is available here.
Objections calling for a more human-scale development will be prepared by both Redington Frognal Association and Redington Frognal Neighbourhood Forum.
–––
Consultation: Conservation Area Appraisal and Management Strategy
Redington Frognal is one of 40 conservation areas in Camden. Residents are requested to provide comments on an updated Conservation Area Appraisal and Management Strategy is currently being consulted on by Sunday March 20th, at: https://redfrog.commonplace.is/
–––
NEW WhatsApp Community Group
A new Community WhatsApp group has been set up as a place where all relevant community information can be shared including service outages, road closures, suspicious activity in the neighbourhood and service recommendations / referrals. To join this group:
1) If you have WhatsApp already join via this link
2) Or scan the QR code below.
3) Or email your name and contact number to redfrogemail@gmail.com and you will be added to the group.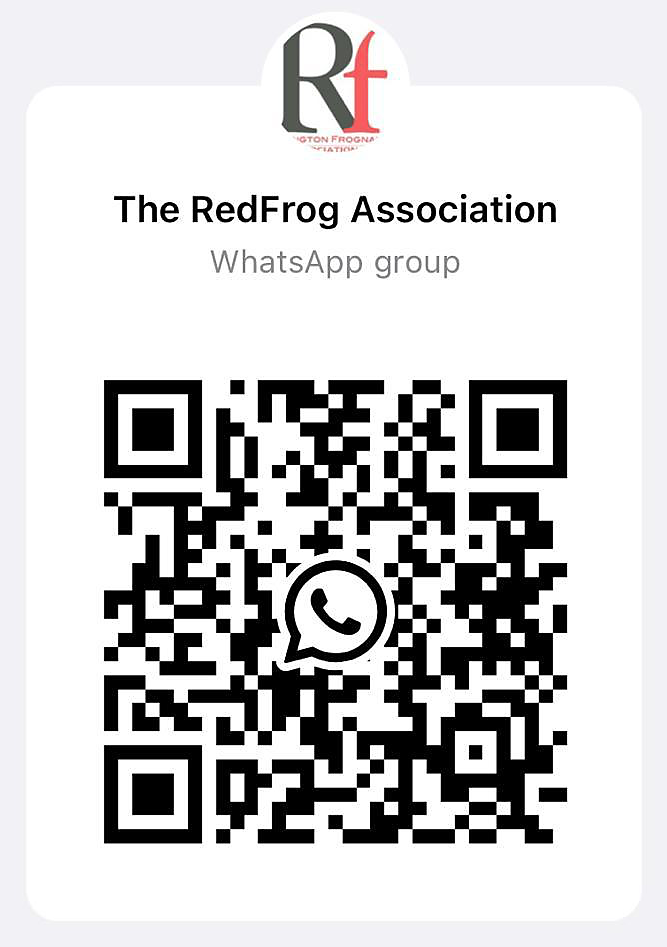 –––
At the Neighbourhood Forum EGM of 18 March 2020, it was unanimously agreed to formally submit the Redington Frognal Neighbourhood Plan (Submission version), the Basic Conditions Statement and the Consultation Statement to Camden Council.
Camden Council will now undertake Regulation 16 publicity to check the Plan meets the Basic Conditions. Following this, an Examiner will be appointed, with the agreement of the Forum. Camden will then consider the Examiner's report and, if the Plan is capable of being modified to meet the Basic Conditions, Camden must make these modifications, or ask the Forum to do so. Once the modifications have been made, Camden must publicise the Neighbourhood Plan and arrange for the Referendum.
–––
Recent Referendum on the Redington Frognal Neighbourhood Plan
On Thursday 17th June 2021 you could have your say by voting. If approved at Referendum, future development will need to preserve or enhance the Area's architectural heritage and contribute to greening the neighbourhood.
Update: Results of the vote
RedFrog is delighted to report the result of the referendum on the Neighbourhood Plan, held on Thursday 17th June:
88% voted Yes, in favour of Camden using the neighbourhood plan to to help it decide planning applications in the neighbourhood area.
We are grateful to many for input and help – from the Forum Committee to our ward councillors, residents who helped with publicity and, particularly, all those who voted Yes. The Committee will now monitor implementation of the policies.
More details on the Neighbourhood Plan are available here.
–––
Covid-19 update
Please see our recent post for information on local Home Deliveries and other help during self isolation/social distancing, and also a request for Volunteering Opportunities. This page is being regularly updated.
–––
RedFrog Forum
The RedFrog Neighbourhood Forum has been set up to organise the production of a neighbourhood plan, as an opportunity to help shape the development of the local area. For all information about the Forum and the Neighbourhood Plan please visit the RedFrog Forum website.
The RedFrog area is shown below, bounded by Finchley Road, Briardale Gardens, Platt's Lane, West Heath Road, Branch Hill and Frognal:
The RedFrog area includes the following streets (in whole or in part):
Arkwright Road (between Finchley Road and Ellerdale Road)
Bracknell Gardens
Bracknell Way
Briardale Gardens
Chesterford Gardens
Clorane Gardens
Croft Way
Ferncroft Avenue
Finchley Road (eastern side between Frognal and Briardale Gardens)
Frognal (between Finchley Road and Frognal Lane)
Frognal Close
Frognal Lane
Greenaway Gardens
Hampstead Gate
Heath Drive
Hollycroft Avenue
Kidderpore Avenue
Kidderpore Gardens
Langland Gardens
Lindfield Gardens
Oakhill Avenue
Platt's Lane
Redington Gardens
Redington Road
Rosecroft Avenue
Studholme Court
Templewood Avenue
Templewood Gardens
West Heath Road