A map of the trees felled in private gardens between 2010 and 28.10.17 is shown below.
The pace of felling has since accelerated.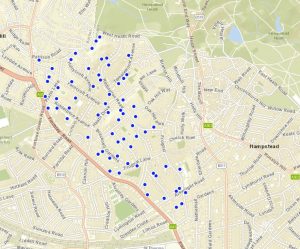 More information can be found on Camden's Open Data portal:
https://opendata.camden.gov.uk/Environment/Trees-In-Camden/csqp-kdss/data
Objecting to proposed tree fellings / notices of intent
The only grounds on which a notice of intent to fell may be refused are:
Visibility. The extent to which the tree can be seen from a public place, such as a road or footpath, or accessible by the public.

Size and form;

Future potential as an amenity;

Rarity, cultural or historic value;

Contribution to, and relationship with, the landscape; and

Contribution to the character or appearance of a conservation area
Financial and pollution removal values for trees, by species and age
CAVAT values (Capital Asset Value For Amenity Trees), pollution removal and carbon storage values are provided for different trees according to their age. Trees which are more mature, with good leaf cover, have far greater values than replacement saplings.
The Value of Different Tree Species, by Maturity is shown below as an image, or a pdf version is available here:
Typical CAVAT values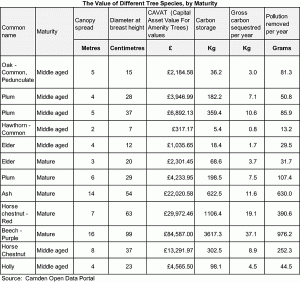 Tree Planting
Tree planting is important for health well being, cooling, shading, air quality, reducing the risk of flooding by reducing surface water run off,  and to support wildlife.
Trees selected for planting should have a high value to insects, as in the list below, where trees are arranged in order of the number of species supported.
Trees to enhance biodiversity and conservation area character, as found in the London Survey