Restoration of Constable's Branch Hill Pond
This project is connected to the mapping of Underground Rivers.
Branch Hill Pond is the historic source of London's lost River Westbourne: the spring-water rising in this area fed the Cannon Stream, which flowed down through Redington Gardens. The pond was originally a spring-fed pool formed by excavating sands, and eventually filled in the 1880s. It is famous for appearing in numerous Constable paintings.
ARUP have estimated the cost of restoring the pond to be £50,000. Grants of of £20,000 from the Mayor of London Greener City fund and £15,000 from the City of London Corporation Enjoying Green Spaces and the Natural Environment fund have been applied for respectively, in a further phase to the project marking the direction and flow of Underground Rivers.
Grant applications have been successful and these funds will enable the restoration of Constable's Branch Hill Pond as natural, wildlife pond. The project has the support of the Mayor of London, the City of London Corporation and Camden.
The ARUP / RedFrog project proposal is available here:
Arup – RedFrog Branch Hill Pond concepts – 01-10-18
Below is shown the likely site for the ephemeral wildlife pond or scrape, as viewed from Branch Hill.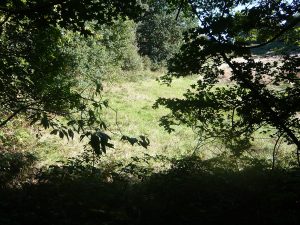 Following ground investigations and boreholes excavation, designs were developed by Jon Sheaff Associates in conjunction with Hydreau. In November 2020, these were being reviewed and finalised by City of London Corporation Open Spaces department.
The project has been developed with grant funding from the Mayor or London, the GLA and City Bridge Trust, which are financially supporting the pond's restoration.